About
The 21st century edition of the Alexander Romance, a nearly 2000 year old literary tradition recounting the legendary life and accomplishments of Alexander the Great.
The Story
In 323 BCE, Alexander the Great begins to fear.
Fearing the destruction of his pothos — his longing for life, ambition, and eternal conquest — from old age, Alexander embarks on a quest for the elusive Water of Life while accompanied by his wisest, most trustworthy Servant.
As they experience a series of countless fabulous wonders, including glass submarines, naked philosophers, Amazonians, and talking prophetic trees, Alexander confronts his complex legacy and reflects on the life and deeds that will cement his transformation into one of the most unforgettable figures in world history.
What on earth is this site?
It's a webcomic… and a resource for anyone interested in the Alexander Romance and the process of comics making.
When you click COMIC, it takes you to the webcomic. Each page will have author notes underneath.
When you click RESOURCES, it takes you to a page that contains introductory materials about the Romance, my research notes, and behind the scenes.
I explain more about the site and the work in my FAQ.
Update Schedule
Multiple pages every two weeks, on Tuesday noon (US) or Wednesday midnight (Southeast Asia).
Follow the Twitter account or subscribe to the newsletter to be notified of updates.
Media
The AV Club, Comics review: Alexander, The Servant & The Water Of Life innovates in bringing poetics to comics
Awards & Support

Supported by Rimbun Dahan Southeast Asia Artists Residency 2021

2022 Ignatz Nominee for Outstanding Online Comic
Appearances
The Author & Artist
Reimena Yee is a strange and fancy storyteller and illustrator originally from the dusty city of Kuala Lumpur. She is the creator of the Eisner-nominated The Carpet Merchant of Konstantiniyya, the gothic suburban fantasy Seance Tea Party and the whimsical adventure comedy My Aunt is a Monster. She is also one of the core founders of UNNAMED, a Southeast Asian comics collective. https://reimenayee.com
The Consultant
Richard Stoneman is a former editor for classics and other subjects at Routledge; and the foremost expert globally on the legends of Alexander. He is also the author of several books on the Alexander Romance, Greek mythology, early travellers to Greece, and the relations between Greece and India, including Alexander the Great: A Life in Legend, The Greek Experience of India and A Traveller's History of Turkey. He continues to hold an Honorary Professorship at the University of Exeter.
The Editor
Atla Hrafney is a queer comics writer and editor from the sunny country of Iceland. She is one of the founders of the Icelandic Comics Society. Her editorial portfolio includes the Eisner-nominated The Carpet Merchant of Konstantiniyya, the popular webcomic, Countdown to Countdown, and many more.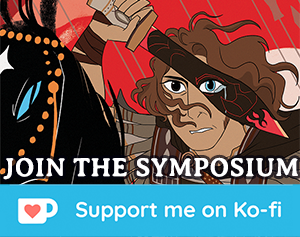 Newsletter
Follow the 21st century graphic novel retelling of the Alexander Romance, a historical-fantastical account about the life, deeds and legends of Alexander the Great. Never miss a single update.


Privacy policy