Support
Alexander, The Servant & The Water of Life is an independent and creator-owned passion project. When you become a supporter, you support the creation of an independent work from a new voice.
Subscribe to the Newsletter.
Join the newsletter to get the latest, free updates on Alexander, The Servant & The Water of Life directly to your inbox.
Follow on Twitter.
Follow @alekosromance to get updates on Twitter.
Become a patron with a one-time donation or monthly subscription.
Support me and the comic financially at The Symposium @ Ko-fi! Get early access to pages and exclusive locked content including membership to a private Discord community. More information in this FAQ.
Sponsor a book, scholarly article or visual reference.
Books and journals are expensive. While I try to use as many reliable free and open-source information as I can, often this is not possible. You may sponsor a book, article or visual reference from my wishlist in the link here.
Partnership & Collaboration.
I am actively looking to connect with educators, museums, scholars and creative allies both inside and outside of comics. I'm eager to contribute to efforts to diversify Classics, create accessible and engaging material for the public, encourage the use of digital collections for creative projects, and talk about graphic storytelling, graphic history, visual literacy and the craft of writing and drawing.
Sharing, comments & reviews.
Sharing the work with your friends, family, colleague etc is the best kind of free support! Whether it's in the form of a tweet, a blog post, a Goodreads review (we have a page!), or a kind comment, these words go a long way towards making a creative work successful. If nothing else, they brighten up my day. (Fun fact: I keep nice comments and fanart in a special folder)
Buy my other books from a store or request them at your library.
Buying my books from a store or requesting them at a library helps boost my sales and get me closer to earning royalties (passive income!). The more books I sell from my backlist, the higher my chances of getting other pitches accepted into the traditional publishing route. Not only will that help money-wise, it also opens up access to readership outside of the internet and the comics bubbles.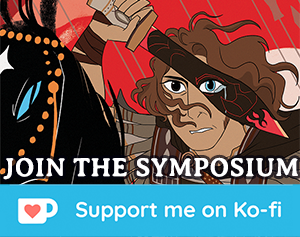 Newsletter
Follow the 21st century graphic novel retelling of the Alexander Romance, a historical-fantastical account about the life, deeds and legends of Alexander the Great. Never miss a single update.


Privacy policy