Chapter Three 039-040
Posted September 15, 2021 at 12:00 am
I'm back on the webcomic horse!! Thanks for the patience, everyone. Alexander will be running fornightingly as usual.
This Chapter, I'm taking a crack at depicting Macedon using the same approach as described in my Author's Notes for Chapter Two. I'm still figuring it out and refining it as I go, but it will be a fun challenge. ;O

Footnotes:
Left page illustration by Andre Castaigne from Benjamin Ide Wheeler's
Alexander the Great
(1900)
Labyrs - the axe is specifically based off this pottery painting (Berlin F1704)

Incense burners, or thymiaterions
Comments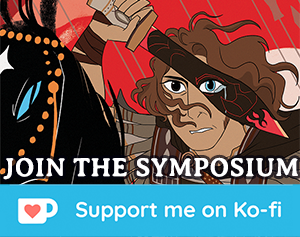 WHAT IS THIS?
The 21st century graphic novel retelling of the Alexander Romance, a historical-fantastical account about the life, deeds and legends of Alexander the Great.

Privacy policy