Prologue 005-006
Posted June 10, 2021 at 9:10 pm
Whew! Here we go, the first of many illustrations featuring the sprawling motifs of the Alexander Romance.

I had a bit of a emotional moment while I was doing the research for this spread. I learned about a type of medieval manuscript that was called a model book - basically an olde days version of an art reference book which provided stock motifs for artists and samples or flash sheets for commissioning clients. 600 years ago, artists would open one of these books and pick a letter, a border, a pattern, etc to sample from for their project... and now, in the year 2021, I am doing the same from a digital scan of one of these books that's sitting in the British Library on the other side of the globe. How wild is that!! It's experiencing moments like this that makes me feel honoured and humbled to be a creator, to connect with my elders like this and be lucky to use the same tools they were using, unchanged, across 600 years. (Not to mention during the pandemic, haha, the more things change...😬) Which is sort of the point of the prologue, pretty much, if you read on...

Footnotes:
I sampled the alphabet Y from the Macclesfield Alphabet Book (British Library, Add MS 88887, f. 26r)
Right page illumination of Alexander and four griffins - British Library, Royal 15 E VI, f. 20v
The tree with the animal heads is based on the waq-waq tree, which Alexander once encountered in the Shahnama.

If you are able to identify what each motif is referring to, hooray! You're as deep into the lore as I am. OTL

Comments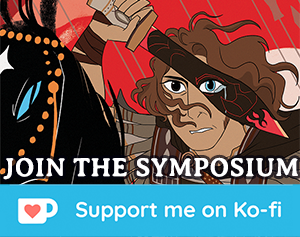 Newsletter
Follow the 21st century graphic novel retelling of the Alexander Romance, a historical-fantastical account about the life, deeds and legends of Alexander the Great. Never miss a single update.


Privacy policy