Prologue 013-014
Posted June 10, 2021 at 9:10 pm
This is in my opinion the heart of the prologue. And one of the cores of this webcomic!!
The line "A keeper of pearls among treasures, strung by poets and painters myraid..." pays homage to Nizami Ganjavi (one of three major contributors to the Persian Alexander Romance). He refers to the collection of legends, myths and ?historical? anecdotes which formed the Romance tradition as 'pearls'.
Additionally, Nizami's author's preamble in his poetic epic is very much a source of inspiration for my prologue – the other being the invocation of Muses found in ancient Greek poetry. I've fused the two together into something like an invocation for the reader from the author, to take part in this storytelling journey that's not just about this king, but the authors and artists who made him a legend that endured across memory.

A major reason why I took on the Alexander Romance was because of this... this connection to a long, almost unbroken chain of artists and authors in conversation with each other, across times and cultures and places. It's humbling and sweet how artists dealing with Alexander share similar creative experiences across centuries. I'm very grateful to be the latest part of the tradition, to be exploring this heritage once more and retelling it for the 21st century, in a new medium, as both scribe and illuminator, author and artist, online. ;;
Footnotes:
Roman Era Glass Inkwell
https://www.metmuseum.org/art/collection/search/249364
https://www.metmuseum.org/art/collection/search/249048
Turkish penbox and inkwell
https://art.thewalters.org/detail/39988
Traces of the Calligrapher: Islamic Calligraphy in Practice, c. 1600–1900
Portrait of a medieval Persian artist at work
Portrait of the writer Abd al-Rahim and artist Daulat at work making the Khamsa of Nizami - Walters Art Museum MS W.613
Illustrator Fred Mason's woodblock drawing for The Story of Alexander (1894)

Comments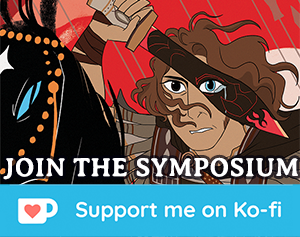 Newsletter
Follow the 21st century graphic novel retelling of the Alexander Romance, a historical-fantastical account about the life, deeds and legends of Alexander the Great. Never miss a single update.


Privacy policy