The Symposium FAQ
What is The Symposium?
Hosted on Ko-fi, The Symposium is an exclusive club for readers interested in financially supporting Alexander, The Servant & The Water of Life.
What is included?
Readers who make a one-time donation get 30-days access to locked content including: early access to upcoming pages and behind-the-scenes to Alexander and some of my other graphic novel projects, including the anticipated Comics Literary Device textbook. Access ends 30 days from the day of donation.
All monthly subscribers retain unlimited access (until the end of their subscription) to past and future locked content, PLUS membership to a private official community hosted on Discord, where you can meet other readers of the comic, who share an interest in comics, art, history, storytelling and obviously, Alexander the Great. Fun community events like a 'movie watch night in which we watch every adaptation of Alexander, no matter how off-the-walls' are in the works.
Do note that a majority of the content will eventually be made available to the public in the future.
How much does it cost?
The minimum joining price is one coffee, or $3. You're free to determine any amount above that for your donation or subscription.
Note: if you want to make a large one-time donation AND obtain an equivalent amount of membership to the Discord community, please email me!
How does The Symposium benefit the work and the creator?
Alexander, The Servant & The Water of Life is entirely independent and creator-owned. The website, the graphic novel and the educational resources are produced for free by one person (me), with research, tools, and materials at my own expense. Every dollar goes to sustaining the creative work and improving the conditions of a living artist. In turn, you get to read the comic AND allow young artists access to creative resources AND develop a new generation of history fans AND support the humanities. Everything's connected!
Less abstractedly, the money goes to buying books/materials for research, subscription services for research and creative softwares, consultant fees, compensation for the time and labour of producing the resources + comic + marketing, and generally grant me the freedom to make more stories in the future. 🙂
Are there alternate means of support besides The Symposium?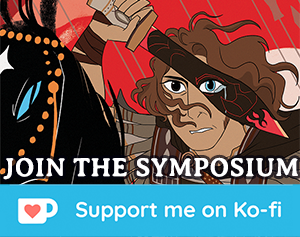 Newsletter
Follow the 21st century graphic novel retelling of the Alexander Romance, a historical-fantastical account about the life, deeds and legends of Alexander the Great. Never miss a single update.


Privacy policy