Alexander Book 1 is on sale today + interesting news
Posted October 7, 2023 at 4:34 pm
Hello hello!!
It's been awhile since I last posted - I will get into it shortly, but first: if you missed out on the crowdfunding campaign last year, good news, gang!!
✨ The book and merchandise (bookmarks, bookplates) are on sale now at my publisher's store, Hivemill! ✨

Thank you to everyone who backed and supported the book and made it so beautiful! I'm so proud of the high production value of everything; it's definitely what I consider the best designed in my career.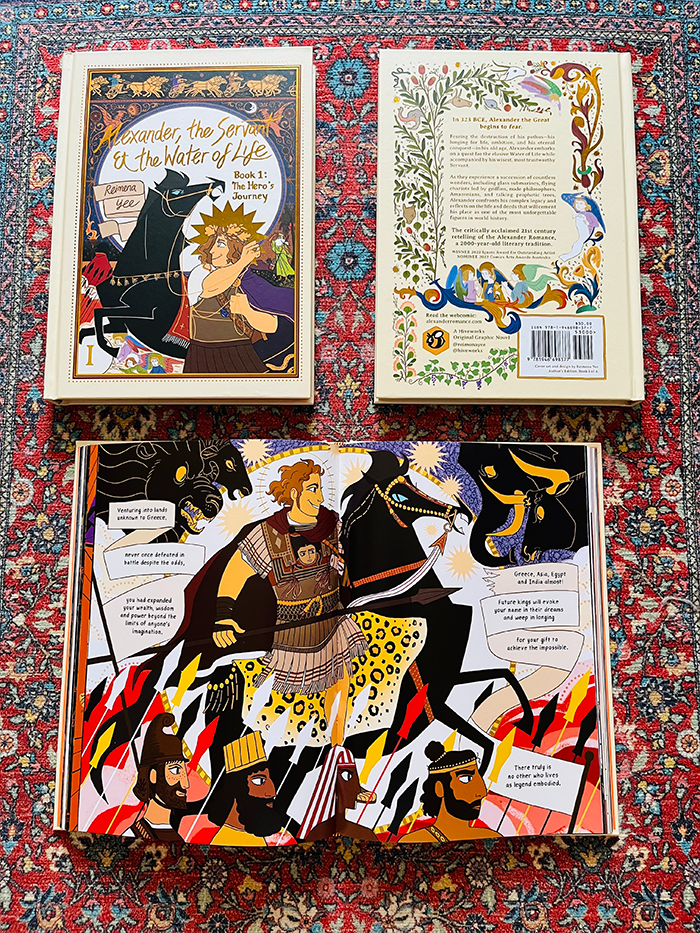 A photograph showcasing three sides of the Alexander hardcover book: front cover, back cover and opened to feature one of the double spreads.
Now here's the Interesting News part:

I've somewhat foreshadowed it on this site and spoken in my newsletter, social media, blog etc about it: I have been away for a little over a year because I'm currently undertaking my Masters in Arts Management. I am planning to advance into a new career path where I am organising and running things like festivals, residencies, exhibitions and more... hopefully for comics! It's been a struggle to juggle studies with dayjob, freelance, traditional publishing, and life. But I am getting the hang of it!

A lot has happened to Alexander Comic outside of this website, which I will summarise below and lead up to the Big News.
-

Alexander Comic was nominated for a few awards: the Cartoonist Studio Prize, the Comics Arts Australia Awards, and two Ignatzes. And it won the big Ignatz - for Outstanding Artist! Thank you to everyone who considered Alexander!
-

Alexander Comic was part of a major British Library exhibition last year about... the Alexander Romance! (link to my interview with them about it) It was so so cool to have this webcomic placed in context with its artistic and literary precedents, and the other modern interpretations of Alexander's life and legacy. The manuscripts! The scrolls! The movies! It even inspired an interactive exhibit nearby (you stand in front of a screen and get your future read haha). I even got to take the full printed canvas home!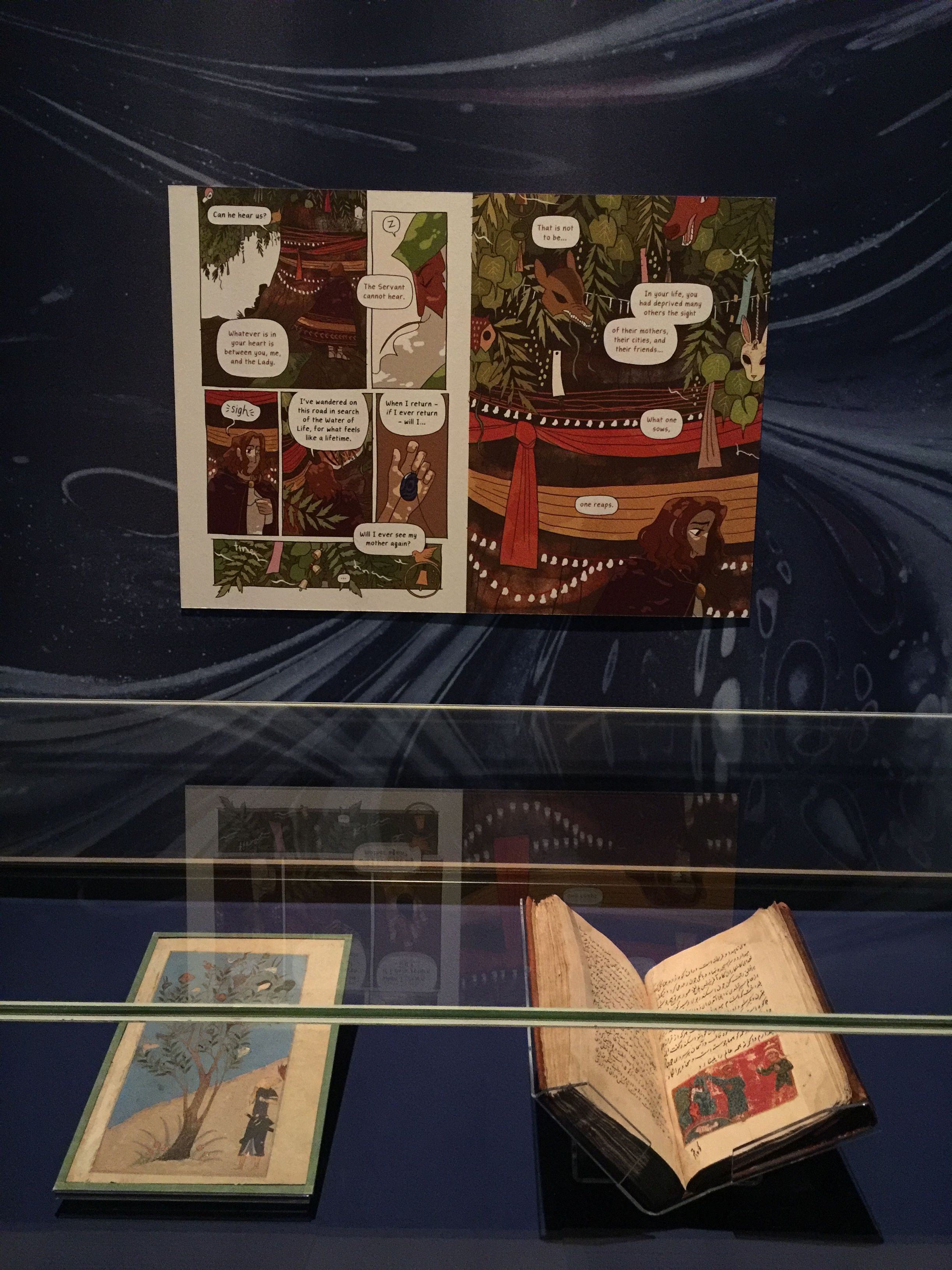 Now that the exhibition is over, I get to post the full 8 pages I drew for them.

-
Alexander is getting a French edition published in January 2024 by Editions Kinaye! (which also published The Carpet Merchant of Konstantiniyya)
The Alexander Romance was such a huge thing in medieval France so I am really hype to bring the modern Alexander Romance home, in a ninth art format!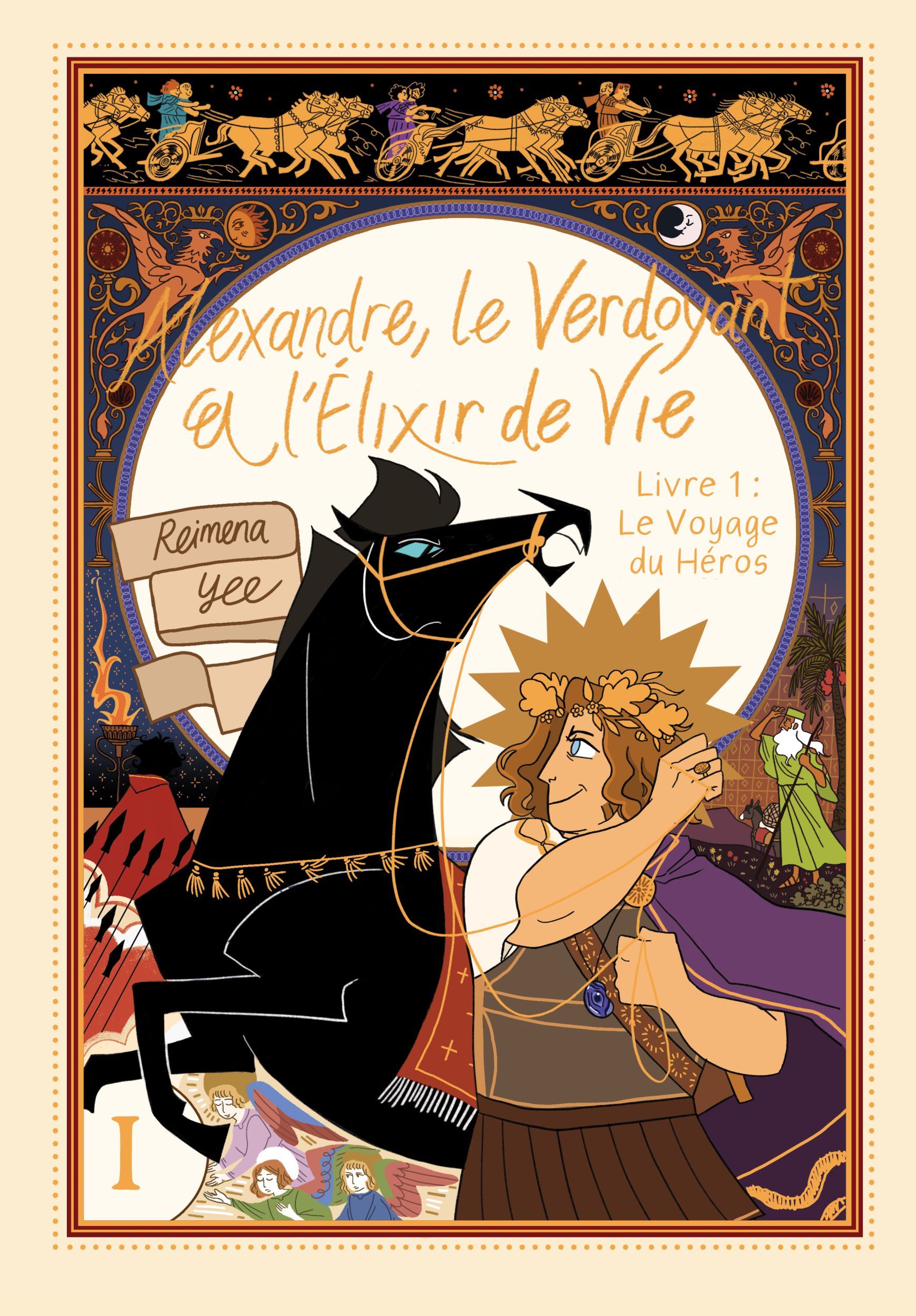 -
And the Big News...
I am finishing my semester in a few weeks before the long summer holidays.
Which means I finally have time to start Alexander Book 2!!!!!!!!!! 👀
I have no idea when new pages will drop, but stay tuned.
(Follow my newsletter to get updates)

I just have one more major assignment and a little project.
And then...
Alexander's gonna continue his journey for the Water of Life. How's he gonna deal with the horrors the author will subject him to???

-

Thank you everyone for your support, warmth and patience over the past two years. I really am still awed about how it's turned out for this webcomic. ❤️
Comments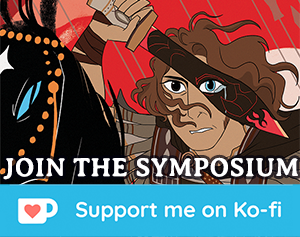 Newsletter
Follow the 21st century graphic novel retelling of the Alexander Romance, a historical-fantastical account about the life, deeds and legends of Alexander the Great. Never miss a single update.


Privacy policy