Book One: The Hero's Journey
Posted June 10, 2021 at 9:10 pm
Fun fact: Today, June 10/11, is the 2344th anniversary of Alexander's death.
Oh my gosh, after almost three years of pre-production and development... it's finally here!! It's official!!

Chapter 1 will release next month, on July 21. (Fun fact: That will be Alexander's 2377th birthday.) In the meantime, feel free to explore the rest of the website, which contains lots of resources and behind-the-scenes tucked into its nook and crannies! I plan to make this the primo place for Alexander Romance #content and the comics creation process, so look out for more site content in the future. ;)

If you'd like to support me and Alexander, please talk about the comic online and share it with anyone who might be into it! If you don't want to miss Chapter 1's launch, you may

Follow @alekosromance on Twitter.
Subscribe to the newsletter to get free update notifications in your inbox.
And if you'd like to see early previews of Chapter One, check out the Symposium on Ko-fi! As an early bird, for $3 a month you get to have front row seats as well as access to the Discord server. Here's an FAQ for the Symposium.

(The price will increase once Ko-fi introduces tiers to their service, so you better get in there ASAP.)

Thank you to everyone who has followed this project since 2018. I am so happy to be back doing webcomics and to share this new era of my life.
- Reimena

Comments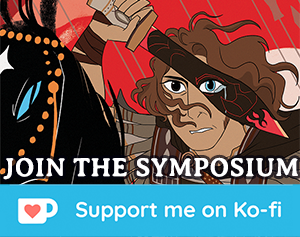 Newsletter
Follow the 21st century graphic novel retelling of the Alexander Romance, a historical-fantastical account about the life, deeds and legends of Alexander the Great. Never miss a single update.


Privacy policy