Chapter Seven 191-192
Posted August 2, 2022 at 10:38 pm
MAY 2021 - JULY 2022
And that's it!! Thank you so much for joining me and Alexander on our journey! We will be back for Book 2, and I am excited for that part of Alexander's story: about his time as a youth in Macedon, about Philip, and Olympias, and the others. Now that Book 1 has established the narrative structure, Book 2 is going to go wild.

I am taking a hiatus to script out Books 2 and 3. I am not sure when the hiatus will be over - I plan to return on Alexander's birthday in 2023, but there's a major life event that might affect the release date.
In the meantime,
First, the print edition of Book 1 is still crowdfunding! More info on the next page.
Second, if you can, drop by the British Library for an exhibition on the Alexander Romance this September to February. In addition to manuscripts and media depictions of Alexander the Great, I have an exclusive comic up on display. It's an honour to be a part of this exhibition!
Third, the Author's Notes for this chapter, and Book 1 in general, are up.
Fourth, the full Transcript for Book 1 is available now.

Fourth, if you're interested in the rest of my work, I suggest checking out The Carpet Merchant of Konstantiniyya duology - it's historical, set in 17th century Istanbul and 18th century England, and is a vulnerable story about a guy who turns into a vampire and his wife. Alexander Comic owes its artistic and narrative approaches to what was done for The Carpet Merchant. If you want something more all-ages and contemporary and fun, there is Seance Tea Party, and My Aunt is a Monster.

Until the next time we meet,
Reimena

Subscribe to the newsletter or follow @alekosromance and/or @reimenayee for future updates.

Comments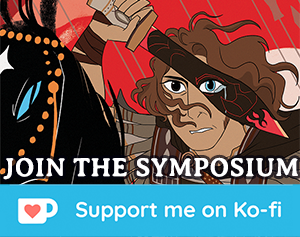 Newsletter
Follow the 21st century graphic novel retelling of the Alexander Romance, a historical-fantastical account about the life, deeds and legends of Alexander the Great. Never miss a single update.


Privacy policy